Software for Applications using Barcodes and RFID - audit screen
SageData is based in Ottawa, Ontario, Canada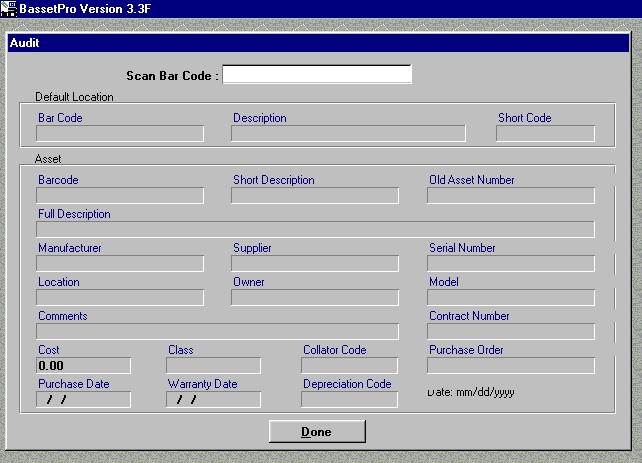 This screen is used to confirm the current location of a series of items, or to move items to a new location.
The user identifies a location, and then simply scans the UIC Code of all items in that location or to be moved to that location. The UIC is usually in barcoded format as part of the asset tag. We recommend a cordless barcode scanner or fixed mount RFID reader. As each item is identified it is displayed on screen with all available information. The system writes a transaction record to enable a complete history of each item to be generated.
This function would be used for mass moves, such as transfers to a new location, return for repair, disposal, equipment loans, shipping or even equipment being despatched for a trade show. It is all used for receiving items which have previously been processed by the system.  Again, this could include items returned from loan, from repair, or returned from a trade show.
For more information, or to ask a detailed question, contact us.
Browse the following pages from more information:
- BassetPro - for asset management applications
- Whippet - for warehouse management applications
- FiESTA - fire equipment inspection applications
- PICS - inventory control system
- SePTRE - security patrol tracking equipment

QAOK3156-3