Construction Warehouse Management using RFID and Barcodes
SageData is based in Ottawa, Ontario, Canada
Introduction
Warehouse management is an important part of any construction business that aims to be cost competitive, efficient and modern. The ongoing pandemic put even more pressure on the industry as some construction materials experience longer than usual delays and shortages.
A reliable up-to-date information on the available stock, orders and lead times could be the key differentiator between success and failure to deliver a project or a stage on time. Some construction projects encounter an additional complexity when not just the construction materials need to be tracked and managed but also the original finishes need to be removed, stored and later re-installed.
SagaData Solutions helped a number of clients with both sides of the construction warehouse needs.
The Challenge
One example of such a warehouse management system has been implemented for an ongoing restoration project in one of Canada's major cities.
This client has to dismantle and store tens of thousands of the original finishes, stones, floor tiles for a period of several years. Once the exterior construction is completed these items will be put in place as the interior work proceeds.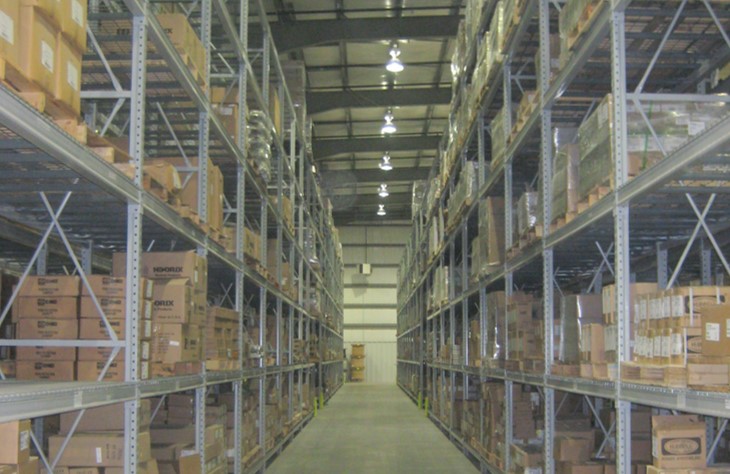 There are some serious challenges to be addressed:
- items to be stored are of different shapes and sizes
- items are stored either in containers or without depending on their physical dimensions
- the number of items is very significant requiring more than one warehousing location
- some items require movement from one warehouse to another using commercial trucks
- client needs to know the exact location from where an item was removed and where it is at present

SageData Solutions' BassetPro system has been evolving for over 25 years and is well positioned to meet these challenges.
The Solution
We used a combination of the barcode and RFID technology, mobile data collectors and our flagship and field proven software BassetPro to provide a reliable solution.
Our system has easily accessible (to authorized employees) information about every item in the warehouse and in transit between the warehouses.
The information include the item's description, where it was originally located, when removed and by whom, and, where it is now including specifics of warehouse, aisle, shelf and a crate. When an item is loaded on a truck, our system tracks who loaded it, which truck, driver's name, time of loading, destination and more.
On the receiving side, in addition to the above information, our system will flag an item unloaded but not listed on the bill of lading.
The warehouse management is able to monitor all the storing, loading, shipping, unloading, etc. activities in real time using flexible reporting features of BassetPro.
If you found this useful, you might also want to review:

- an introduction to BassetPro software solution

- an introduction to WMS - warehouse management system

- an introduction to asset management

- consulting services: barcodes and their applications

QAOK3164-8