DL-Axist from Datalogic. Mobile Handheld Computer. Product Review

Summary
A nice product. Good look and feel. Rugged. And a good price point. Recommended. We have this product in the field with our clients today. Good feedback.
Size
Fits comfortably in the hand. The screen is touch sensitive of course, and large enough to give good access to an array of buttons without risking pressing the wrong one. The unit has a solid feel. The plastics have been upgraded since the first samples that we received, and a nice improvement.
Operating system
Android.
Controls
The standard android controls on screen of course, but also nicely placed extra buttons on the sides and front of the unit. On the right side, the top button is a well placed scan button. Below that, controls for power on and power off. This is important, on some earlier units from other manufacturers it was too easy to confuse the scan and power off buttons. So when intending to scan a barcode it was just too easy to turn the unit off.
The bottom face of the unit holds the connectors to mate with the docking station.
On the left side of the unit, from the top down, there is a scan button, and the connector for the micro USB cable. The top of the unit has the barcode reader lens and illumination.
Front face of the unit, below the screen, there is a button which doubles as power on and scan. The back face of the unit holds the camera lense and flash.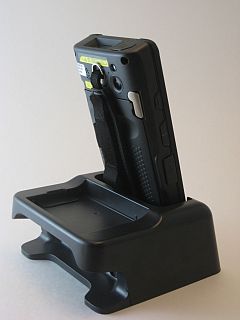 Barcode reader
This is an imager, and informal testing (checking out a few scruffy barcodes that we had conveniently to hand) suggests good performance. Note that the imager can have a disadvantage against a linear imager or laser if one specific barcode is to be read amongst a field of other barcodes. This can happen when a user is trying to pick off a serial number from a label that holds model number, date of manufacture, part number etc. But not usually a serious problem and not an issue in the applications we are working with.
NFC reader
Seems very effective. Standard set up. An active part of some of our applications.
Battery life
Everyone asks about battery life, but it is rarely an issue in real life. No problems here with this unit, but we will update this as we get more experience with the field units.
Accessories
This unit came with a handstrap, nicely designed, strong, not going to fall off. We thought it might impair the NFC reader, but it does not seem to interfere.
Docking Station
Nicely designed. Like goldilocks, big enough to be stable, but not too big to take up more room than it should. Loading and unloading the handheld unit is easy, and it fits snuggly and solidly in the docking station. Connectors for charging and data transfer.
Conclusion
First look, and first experience, this is a very nice product. The developers like it. The clients like it. What is not to like? Recommended.


SDSQAP91 - SDSREF7380
SageData is based in Ottawa, Ontario, Canada.

We design, supply and support systems for asset management, warehouse management, inspections, and traceability.

The technologies we use include barcodes, RFID, NFC, BLE, and handheld computers.

We provide consulting services, and standard or bespoke systems designed to your requirements.

For further information, or for advice and assistance with your application, contact Doreen Wallace or Frances Minhas

Click here to reach SageData by email.

To reach us by phone:
from outside Ottawa, dial 1-888-838-1067
from Ottawa, dial 613 225 4404

Thank you for your interest in our products and services.