Review of Barcode Printer PC4 from Intermec

What is the PC4
The PC4 is a small barcode label printer, housed in a plastic body, and capable of printing labels using thermal transfer or direct thermal printing. It is most suited for small volume demand printing, such as for replacement of defective labels.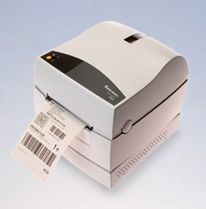 First Impressions
We have been very cautious about promoting this style of printer. The first machines produced with an all plastic body were not renowned for their reliability, and so we have promoted the standard barcode printers - larger with an all metal body. But for some applications, it is difficult to justify the cost. So we looked again at the smaller printers, and picked the Intermec PC4. We met one of the key members of the design team at a trade conference, and were impressed by the thought that had gone into the design.
This is in some ways a surprising machine - more features than one might expect.
Loading
As with many smaller printers, the stock, ribbon and labels, must be mounted on defined spools, which can limit the choice of suppliers. Intermec recommend that only their stock be used, but we have used stock from other sources with great success. Note that Intermec guarantees the print head, but only if their stock is used.
Loading the stock is easy. The top of the printer pops up. Clear diagrams inside the lid show the path through the rollers. Setting up the label sensor is easy and automatic. We tested this with small labels, usually the most challenging, and were able to print satisfactory labels, down to 1" wide by 0.25" high
Software
We had some difficulty with the supplied software at first, but eventually we managed to get it working to our satisfaction. Note that in most applications we use our own in house software, which works fine with this printer.
Easy picking
This printer can be set to print a label and peel off the backing so that the label is offered ready to pick and stick. This feature works well, but only for larger labels - not suitable for smaller labels typically used for asset management.
Printing without wires
In many of our applications, we drive the printer directly from a handheld computer without any direct connection, using Bluetooth as the transfer medium. This computer works well with our standard Bluetooth adaptor.
Pros
A nice small printer. Good price. Easy to set up.
Cons
Does not offer quite the precision of a larger metal chassis machine, though still more than adequate for most applications. Roll size is necessarily limited, so expect to reload supplies more often.
Recommendations
This is an excellent machine where portability is an issue, for occasional printing, or where space is limited (such as manufacturing environments). It is especially appropriate for smaller label size. Recommended.

SDSQAP SDSREF9231
SageData is based in Ottawa, Ontario, Canada.
We design, supply and support systems for asset management, warehouse management, inspections, and traceability.

The technologies we use include barcodes, RFID, NFC, BLE, and handheld computers.

We provide consulting services, and standard or bespoke systems designed to your requirements.

For further information, or for advice and assistance with your application, contact Doreen Garvin or Frances Minhas

Click here to reach SageData by email.

To reach us by phone:
from outside Ottawa, dial 1-888-838-1067
from Ottawa, dial 613 225 4404

© SageData. All rights reserved.    
Thank you for your interest in our products and services.