Managing, Tracking and Maintaining Construction Equipment with RFID and Barcodes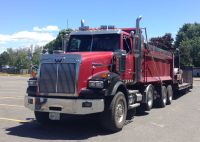 Background
A client operated a construction business, and owned a wide variety of equipment, from chain-saws to graders. Much of this was worth hundreds of thousands of dollars, and by its very nature, was frequently moved from location to location, and often left unattended in remote locations overnight. Equipment was stored at several depots, and from time to time equipment was moved to the wrong location. The insurance company had mandated live tracking for the most expensive equipment, but this required wireless connection through the mobile cellular network, and that in turn generated a monthly bill for each item to be tracked. The cost was adding up.
The trigger
The "final straw" that led to movement on this project was the loss of some critical equipment. It had been returned to the wrong depot, and stored with other equipment. Much time was spent searching for it, and the rental of substitute equipment cost money and time. When eventually, the equipment was discovered, by accident, the justification was made for a tracking system that covered items beyond the top tier mandated by the insurance company.
The solution
SageData reviewed the requirement, and determined that the equipment to be tracked fell into three distinct categories. We developed a solution for each category.
The most expensive equipment.
Items above $250,000 were already being tracked by a real time system. Monthly costs were too high to extend this over the rest of the fleet, so an alternative strategy was developed for items between $20k and $250k. These items would be fitted with an active RFID tag. A mobile receiver would be installed in one or more of the supervisors vehicles. Whenever any of these vehicles came within a hundred metres of any tagged equipment, its location would be recorded. No action was required of the driver, the system was totally passive. Whenever the vehicle returned to any of several depots, the information would be passed to the main server, and made available to all authorised personnel.

This system operates passively, and provides the last known location of the equipment to an accuracy of 100 metres. There is no longer any question of which equipment is in which depot. Fixed monitors constantly monitor the stored equipment, and record the exact time of its removal or return.
Less expensive equipment
For items to 20k, two solutions was proposed. For simple equipment, such as chain saws, the barcode provides an effective solution. Items can easily be tagged, and a handheld portable reader, or reader directly attached to a desktop computer, can be used for audit purposes and to track maintenance activities.

For the equipment that gets dirty, such as water pumps, an HF RFID tag can be used. This is easy to read, even when covered in mud, and is smaller and less expensive than the active tags used on the more expensive equipment.
Benefits
The use of active RFID tags enables the system to operate without intervention. Automating the transfer of information as the vehicle returns to the depot presents some interesting technical problems, if the transfer is to be reliable. SageData have developed a novel means of ensuring success.
ROI - Return on Investment.
The investment in a system such as this can be recouped many ways. Knowledge of the exact location of each equipment saves time and money, particularly when equipment is needed on short notice. Avoiding "lost" equipment avoids "lost" time on projects, saving overall costs and helping to avoid penalty clauses. When the location and status of each item is known, duplication of equipment can be reduced, saving capital costs. When the system is used to track maintenance tasks, wear and tear can be reduced, and equipment life can be extended. The cost of the RFID tags, the RFID tag readers, and the RFID management software can quickly be recouped.

Want to learn more? The following may be of interest...
- An introduction to barcodes and barcode technology

- Return to Experts Answer Questions for Managers.

- Managing Assets with RFID

SDSQAP
SDSREF6321
SageData is based in Ottawa, Ontario, Canada.
We design, supply and support systems for asset management, warehouse management, inspections, and traceability.

The technologies we use include barcodes, RFID, NFC, BLE, and handheld computers.

We provide consulting services, and standard or bespoke systems designed to your requirements.

For further information, or for advice and assistance with your application, contact Doreen Garvin or Frances Minhas

Click here to reach SageData by email.

To reach us by phone:
from outside Ottawa, dial 1-888-838-1067
from Ottawa, dial 613 225 4404

© SageData. All rights reserved.    
Thank you for your interest in our products and services.